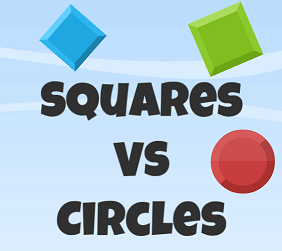 A new game with a new style of gameplay is released: Squares Vs Circles!
This Puzzle Game is as unique and quirky as its title. People will have fun tapping the Squares to defend against the angry Circles!
But why are the Circles so mean to the Squares? Because Squares are not perfectly round, they have edges… something to think about!
Controls:
– Tap the Squares to toggle their position: defensive or vulnerable.
– Tapping is required to make the Circles advance, so choose your Squares smart and carefully!
Features:
– 15+ Levels (more to be added depending on player requests)
– 3+ Worlds: Forest, Winter, Desert (more can be added)
– 3 Types of Squares: Normal, Lazy, and Coward
– Scaling difficulty
– Semi-randomized Levels for tons of replayability
– Interactive introduction
Now what are you waiting for?
Put your puzzle hat on and try Squares Vs Circles!