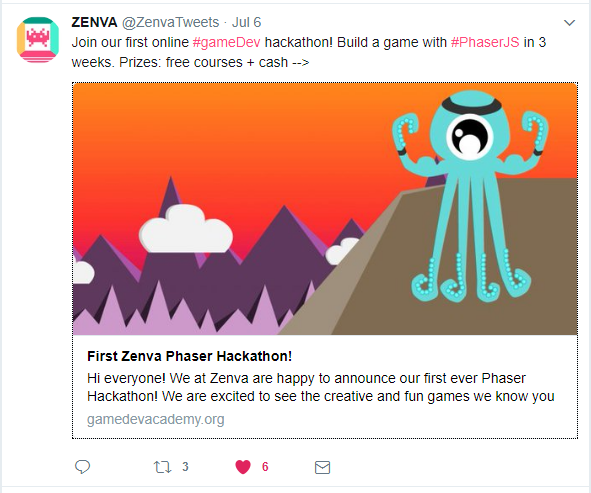 Lasts week, Zenva announced their very first Phaser Hackathon! This is great news for many reasons. And if you haven't heard about this competition yet, you should keep reading.
Phaser Competitions
The hackathon runs from July 6th through to July 30th and is an online competition for Phaser game devs. There are many game dev jams & competitions; however, they are almost always for downloadable games only.
There are really not many HTML5 game jams or competitions like this one. Even less for the Phaser framework!
That's why I am so excited that this is happening.
My Game?
As you can imagine, I would be the first so participate in this hackathon. Unfortunately, it collides exactly with client work & a family vacation that has been planned for almost a year now… I don't know about your family, but mine wouldn't understand if I stayed at home to create a game during this vacation. It sucks but that's life.
Go Again
I really hope this hackathon will be a huge success. Not only should Zenva be rewarded for reaching out to us HTML5 game devs, but I also hope a success will entice them to create a second hackathon in the near future.
And if this online competition becomes successful, I hope it will motivate other organizers to create more HTML5 game dev jams, Phaser hackathons and other HTML5 competitions in the future.
You Should Submit!
If you are already a game dev, or have an interest in game dev, you should push yourself to participate in Zenva's First Phaser Hackathon.
Phaser is a great framework to create HTML5 games and if you have the time, why not use this hackathon as an opportunity to finally get a whole game done?
Good luck! I can't wait to see all the submitted games.
For more info, see Zenva's Phaser Hackathon Page.