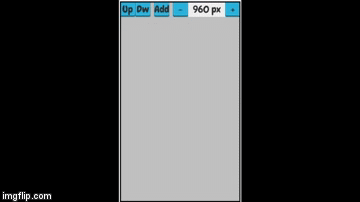 The newest game that is in development will also have a level editor, so you can create your own levels to play through!
Why?
I have been meaning to create a level editor for a while already but haven't had the right set-up to do it properly from the start. With this newest game, I am creating this level editor for myself first so I can create many interesting levels for you to play through.
After that, I want to implement this editor into the game with more polish and make it optimized for touch-input. This means mobile players can create their own levels equally well.
What you see in the gif
In the gif above you can see how I'm adding the first game object from the library to the current level: a simple platform. In the top-right corner you can also see the + and – buttons to adjust the height of the level. The width of the level is fixed to keep the game optimized for mobile gameplay.
Graphics
Obviously, the editor is currently for dev use only and thus the graphics are quite ugly. I hope I can make it much more polished and fun-looking by the time the editor is added to the game.
Sharing Levels
Whether you will be able to share levels is undecided, yet.
The name of the game has not been set yet, either; however, the current dev folder is called "Swipe Climber".