Tap Racer is a mobile racing game with rogue-lite elements. A unique part of the game is tuning your car to do well on a track.
There are three surface types: Asphalt, sand, and dirt. Each track is made up of sections, as you will see in the example below.
Example: "Paris" Track
Let's take the "Paris" track as an example: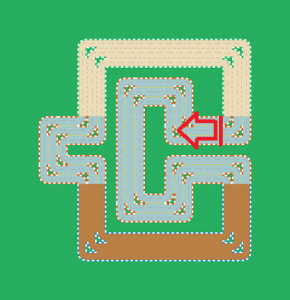 In the image above, you can see very clearly how the track is split up in sections of different surface types: grey is asphalt, beige is sand, and brown is dirt.
Tuning Your Car
As already mentioned, tuning your car is important to do well. Wheels, suspension, and body together determine speed and maneuverability.
Here is a table that summarizes the upgrades from the garage:
Wheels:
Increases drifting speed
Suspension:
Change lanes faster
Body:
Accelerate faster
Engine Level:
Increases Max Speed
Asphalt
Hard Rubber
Hard
Low
applies to all types
Sand
Soft Rubber
Medium
Normal
applies to all types
Dirt
Spiked
Soft
High
applies to all types
Money & Strategy
Money is limited in the game. That's why you need to find the upgrade that will help you the most.
If the track is 60% asphalt but the asphalt sections have barely any curves, then buying Hard Rubber Wheels will hardly benefit you.
Once you have upgraded your car and started the race, remember what your strengths are and drive accordingly.
With a bit of practice, winning will become easy and you will be able to unlock the cool bonus cars!

To play the game, click here: Tap Racer Game